Thank you for contacting Raifsnider's Roofing, a representative will contact you shortly.
Raifsnider's Roofing
Your Roofing Specialists
Contact Us
The Right Solutions For All Your Roofing Needs

Are you ready for a new roof, or is your old roof in need of some repair? Our technicians are expertly trained, and we install only the best products from the most reputable manufacturers, and we strongly suggest using Weatherbond Roofing Systems and RPI products.
What is a low slope roof?
Low-sloped roofing consists of roofs that are flat or nearly flat. These are typically used for commercial roofing, but have become popular for residential use in recent years. A low slope roof is a roof that is not steep enough, per the shingle manufacturers or codes, to put shingles on it.
What We Offer
We have the quality roofing experience our customers deserve, and we can tackle any roofing job. From commercial roofing and preventive maintenance to residential and complex historical restorations with authentic specialty roofing materials, our name means unsurpassed craftsmanship. We offer free estimates and will help you understand every step of the process. In the years Raifsnider's Roofing has been in business we have found that RPI and WeatherBond products are incredible products to install and suggest their products to anyone we work with. You can view the WeatherBond warranty here: WeatherBond Warranty
There are 2 main types of low slope roof coverings

Liquid Applied:

which includes Acrylics, Silicone, Polymers, and Urethanes.

A liquid-applied roofing system consists of multiple components that come together to form a fully adhered, seamless, and self-flashing membrane. Components include liquid applied coatings and mesh membranes to create a true liquid membrane system that preserves and protects the integrity of the building.
Single Ply:

which includes PVC, EPDM, and TPO.

Single-ply is wide width sheeting meant that comes in a roll. Single-ply roofs have far fewer seams than asphalt rolled roof systems and don?t require dangerous torches or hot asphalt for installation. Single-ply roofing materials can be installed directly on the approved roofing substrate. This can drastically reduce installation time, material costs and also allow for easier installation.
Why Choose Raifsnider's Roofing

Locally Owned
We live and work here. And all technicians are specially trained in all aspects of roof installation and repair, you can rest assured your property is getting the attention it deserves.
Excellent Reputation
We are committed and hold ourselves to the highest standards with quality products utilizing the best materials available all while backing it up with outstanding customer service.
Peace of Mind
We only offer the best products on the market with the best warranties. Our technicians are constantly trained on the best practices so you can sleep well at night knowing you are covered.
What to Expect From Raifsnider's Roofing
When you work with us for flat roof repairs, or any commercial roofing service, you can rest assured that the industry's most highly qualified and experienced roofing mechanics and technicians are working on your roof.
We offer new construction and existing roof installations. We can help with both emergency flat roof repairs and reducing the likelihood of future commercial roofing emergencies with planned flat roof repairs. We also offer comprehensive roof inspections.
Contact Us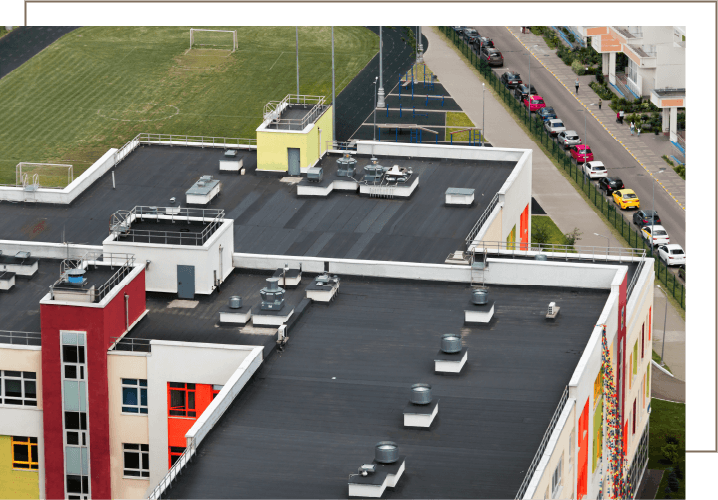 Go Back